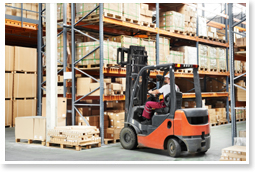 Warehousing
As your company continues to grow, you are recognizing that you may be outgrowing your facilities' physical capacities, or you may have found that your warehousing needs have become more challenging than you anticipated. QIC can take care of your warehousing management needs, while you concentrate on product development and growth, and focus on building strong customer relationships.
QIC partners with our customers to provide solutions to their warehousing and distribution needs. We specialize in short term, seasonal and long term warehousing including full service warehouse management, short term overflow storage, overseas container management, cross-docking, trailer storage, and inventory control services.
OVERSEAS CONTAINER MANAGEMENT AND BREAKDOWN – QIC will manage your overseas containers including: complete crate breakdown, disposal of wood and cardboard, repackaging to useable containers, and storing or shipping to you or your customers' facilities.
CROSS DOCKING – QIC will act as a high throughput sorting facility to manage the timely synchronization and distribution of your freight. Let us become your distribution center. We will save you time, effort and money by minimizing your costly inventory function of a distribution center, while still maintaining the value-added functions of consolidation and shipping.
VALUE-ADDED SERVICES – QIC offers a variety of other services which complements the warehousing functions. They include the following:

Pick/Pack
Kitting
Consolidating
Re-Packaging
Contract Packaging
Custom Services per your requirements
QIC's location is a strategic midpoint of all commercial traffic operating in the Midwest Region of the United States. Our location will put your product within 500 miles of over 35% of the United States population. Also, we have the capability of opening a satellite facility anywhere in the U.S. in two to ten days as needed.
WHATEVER YOUR NEEDS, QIC CAN FILL THEM !
We will work with you as your warehousing partner, to maintain control over your products and save you money, time, effort and space. We would be pleased to provide you with a price quote for our services. Just call us or fill out the Online Quote Request to discuss your needs and requirements.